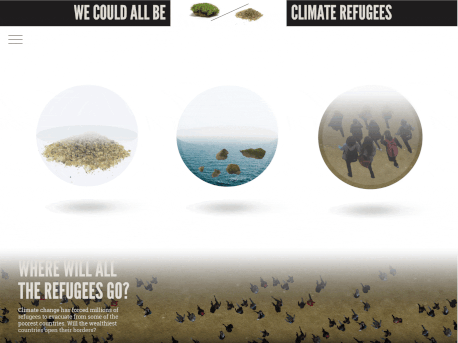 Information design displayed on an iPad and a brochure.
This research project focuses on border tensions and climate change, and visualizes the data of the number of refugees displaced worldwide due to natural disasters.
What is a Climate Refugee?
They can be anyone from any country who must evacuate their home because of the effects of climate change. Earth's political boundaries are shifting as countries are being swallowed by the sea, and droughts and natural disasters have made land uninhabitable. Climate refugees are not recognized or given the same rights as other refugees, and many countries are avoiding responsibility of dealing with this humanitarian crises.
Process
IPad Format: The prototype and animations were created using Flinto. The goal of this project is to visualize large numbers in a simplified and interactive format. It strives to answer urgent questions and to bring awareness of how this crisis affects everyone. I developed visuals that take a realistic approach by using photographs and shadows. The colour scheme contrasts lush green and drought greys and enhances the impending and ominous yet hope-seeking mood.
Brochure Format: I used Photoshop to create the images, Illustrator to design the graphs, and InDesign to put it all together. Globes are used throughout to maintain consistency and to represent the bigger picture in a clear and condensed form. I collected pieces of moss rocks to use throughout this project to symbolize lush land that millions are seeking refugee to. I was inspired by overhead drone footage of people running from the documentary Human Flow by Ai Weiwei, and so I took photos of students from a top floor and used Photoshop to recreate this effect. The map I used is the Authagraph world map designed by Japanese architect Hajime Narukawa in 1999, because it is the most accurate map that retains the size proportions of the continents, and it shows land masses for what they are, beyond borders.